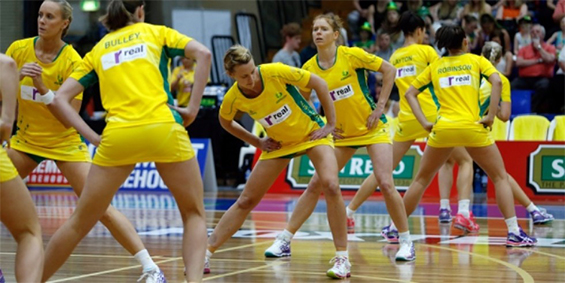 Rupture of the Anterior Cruciate Ligament (ACL) is a common injury that can severely effect an athlete's career and has significant additional financial, physical and emotional consequences outside of sport. The good news is that many of these injuries can be prevented with an ACL prevention program. Unfortunately, most amateur athletes involved in sport at a school or community level are not engaged in these sorts of programs, but progress is being made.
A typical program will include jumping/landing drills, strengthening exercises and agility drills with the aim of improving strength, improve strength, flexibility, control, balance and co-ordination. This is usually incorporated into training as a 15-30 minute 'warm-up' but can also be done as a separate routine.
In this country, Netball Australia led the way in ACL prevention with their Knee Program. They have programs tailored for juniors, recreational and elite athletes. The AFL is now also on board with its FootyFirst program and FIFA has one called "11+".
This type of program won't be for everyone, but it is especially important that athletes who are at higher risk of ACL injury pay additional attention to prevention. Risk factors include:
High risk sports: AFL, soccer, netball or snow skiing
Females
Teenagers
Past history of ACL injury
Family history of ACL injury
If you are at higher risk and your club or school doesn't have a program in place then I recommend engaging with an experienced sports physio or sports trainer who can guide you.
Even those who don't feel a formal prevention program is for them should still consider the importance of adequate preparation for sport. At this time of year when winter sports restart I always see an increase in patients coming in with Anterior Cruciate Ligament injuries. A very common story is amateur athletes in their twenties and thirties who haven't done any physical exercise over summer getting off the couch and returning to sport without adequate preparation. Given the proven benefits of strength and agility training in reducing injuries, this is the worst thing you can do. Putting in the hard yards preseason, as well as maintaining this during the season, is important not only for general fitness and endurance but also for the prevention of many injures including those to the ACL.
Click this link to learn more about ACL reconstruction:
http://www.adrianbauze.com.au/anterior-cruciate-ligament-reconstruction.html
If you would like to make an appointment with Dr Bauze please use the email form on this page or call Lauren 81301259
References:
Donnell-Fink LA, Klara K, Collins JE, Yang HY, Goczalk MG, Katz JN, et al. Effectiveness of Knee Injury and Anterior Cruciate Ligament Tear Prevention Programs: A Meta-Analysis. PloS one. 2015;10(12):e0144063. PubMed PMID: 26637173. Pubmed Central PMCID: PMC4670212. Epub 2015/12/05. eng.
Gagnier JJ, Morgenstern H, Chess L. Interventions designed to prevent anterior cruciate ligament injuries in adolescents and adults: a systematic review and meta-analysis. The American journal of sports medicine. 2013 Aug;41(8):1952-62. PubMed PMID: 22972854. Epub 2012/09/14. eng.
Taylor JB, Waxman JP, Richter SJ, Shultz SJ. Evaluation of the effectiveness of anterior cruciate ligament injury prevention programme training components: a systematic review and meta-analysis. British journal of sports medicine. 2015 Jan;49(2):79-87. PubMed PMID: 23922282. Epub 2013/08/08. eng.
Noyes FR, Barber Westin SD. Anterior cruciate ligament injury prevention training in female athletes: a systematic review of injury reduction and results of athletic performance tests. Sports health. 2012 Jan;4(1):36-46. PubMed PMID: 23016067. Pubmed Central PMCID: PMC3435901. Epub 2012/09/28. eng.
Finch CF, Twomey DM, Fortington LV, Doyle TL, Elliott BC, Akram M, et al. Preventing Australian football injuries with a targeted neuromuscular control exercise programme: comparative injury rates from a training intervention delivered in a clustered randomised controlled trial. Injury prevention : journal of the International Society for Child and Adolescent Injury Prevention. 2016 Apr;22(2):123-8. PubMed PMID: 26399611. Pubmed Central PMCID: PMC4819647. Epub 2015/09/25. eng.
Sanders TL, Maradit Kremers H, Bryan AJ, Larson DR, Dahm DL, Levy BA, et al. Incidence of Anterior Cruciate Ligament Tears and Reconstruction: A 21-Year Population-Based Study. The American journal of sports medicine. 2016 Jun;44(6):1502-7. PubMed PMID: 26920430. Epub 2016/02/28. eng.
Wild CY, Steele JR, Munro BJ. Why do girls sustain more anterior cruciate ligament injuries than boys?: a review of the changes in estrogen and musculoskeletal structure and function during puberty. Sports medicine (Auckland, NZ). 2012 Sep 1;42(9):733-49. PubMed PMID: 22784194. Epub 2012/07/13. eng.