Dr Adrian Bauze - Hip and Knee Orthopaedic Surgeon in Adelaide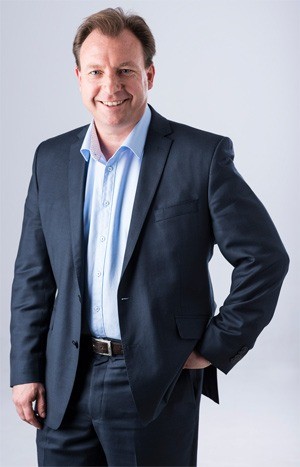 I have been a specialist hip and knee orthopaedic surgeon in Adelaide since 2004, with extensive experience of over 5000 hip and knee procedures. My key areas of expertise are hip and knee replacement surgery, arthroscopy of the hip and knee and anterior cruciate ligament reconstruction. I operate regularly at Sportsmed and Calvary Hospitals.
I strongly believe in the importance of long term outcomes in surgery, as well as research, continuing education and training the next generation of orthopaedic surgeons to ensure the safe application of innovative techniques. My background in electrical and electronic engineering has also stimulated my interest in the use of computers and robotic technology in surgery.
In 2006, two years after completing training, I was appointed Head of the Department of Orthopaedic Surgery and Trauma at the Lyell McEwin Hospital. At the age of 36 I was the youngest ever orthopaedic surgeon to be appointed to such a position in Adelaide. Over the next few years I also enjoyed working part time dealing with sports injuries in elite athletes as a match day doctor for the Norwood Football Club in the SANFL. In 2010 I made the transition to full time private orthopaedic practice which continues to this day.
Medical Qualifications
Fellow of the Australian Orthopaedic Association
Sports Surgery and Arthroplasty Fellowship Sportsmed, Adelaide, 2005
Hip Arthroplasty Fellowship Exeter, UK, 2004
Fellow of the Royal Australasian College of Surgeons (Orth), January 2004
Bachelor of Medicine and Bachelor of Surgery, University of Adelaide, 1995.
Business Qualifications
Graduate of the Australian Institute of Company Directors 2012
Advanced Diploma of Management, University of New England 2011
Present Appointments
Visiting Orthopaedic Surgeon

Sportsmed Day Surgery and Hospital
Calvary Adelaide Hospital
Calvary North Adelaide Hospital

Clinical Lecturer

University of Adelaide, Department of Orthopaedic Surgery and Trauma

Teaching of orthopaedic surgeons in training

Australian Orthopaedic Association Advanced Training Programme
Membership of Professional Organisations
Fellow, Australian Orthopaedic Association
Fellow, Royal Australasian College of Surgeons
Australian Arthroplasty Society
Australian Institute of Company Directors
Australian Medical Association
Sports Medicine Australia
Committee Involvement
Present

Chair, Clinical Audit, Sportsmed
Chair, Clinical Outcomes Committee, Sportsmed

Past

Honorary Treasurer, Australian Orthopaedic Association SA Branch
Chair, Clinic Executive, Sportsmed
Chair, Lower Limb Committee, Sportsmed
KPI Committee, Sportsmed
Arthroplasty Subcommittee, SA Orthopaedic Clinical Network
Trauma Subcommittee, SA Orthopaedic Clinical Network
Past Appointments
Company Director - Sportsmed Hospital and Orthopaedics, 2013-2018
Teaching of orthopaedic surgeons in training - Sportsmed Sports Surgery and Arthroplasty Fellowship
Head of Department of Orthopaedics and Trauma - Lyell McEwin Hospital 2006-2010
Club Doctor - Norwood Football Club, 2006 - 2007
Clinical Tutor - University of Adelaide Department of Orthopaedics and Trauma, 1998 - 2005
Research Fellowship in Sports Injuries and Arthroplasty, Jan - July 2005 - Sportsmed
Fellowship in Hip Arthroplasty, July - Dec 2004 - Princess Elizabeth Orthopaedic Centre, Exeter, United Kingdom
Locum Visiting Medical Specialist Jan - July 2004 - Royal Adelaide Hospital, The Queen Elizabeth Hospital
Orthopaedic Trainee Registrar - South Australian Advanced Training Programme 2000-2003
Orthopaedic Registrar
Princess Elizabeth Orthopaedic Centre, Exeter, UK, July - December 1999
Modbury Public Hospital, 1998, North Western Adelaide Health Service, 1999
Basic Surgical Trainee - South Australian Basic Surgical Training Programme 1996-1997
Intern - Royal Adelaide Hospital, 1995
Other Qualifications/Courses
Australian Orthopaedic Association Orthopaedic Basic Science Examination - November 2000
Emergency Management of Severe Trauma (ATLS). RACS, Adelaide, October 2000.
AO/ASIF Course on Advances in Fracture Management, Davos, Switzerland, December 1999.
AO/ASIF Course on Principles of Operative Fracture Treatment, Sydney, March 1998.
Royal Australasian College of Surgeons Part I Examination - July 1997
Electrical and Electronic Engineering (first year), University of Adelaide, 1988
Matriculation: 1987 at Saint Ignatius College, SA
Research Publications
Are Hooded, Crosslinked Polyethylene Liners Associated with a Reduced Risk of Revision After Total Hip Arthroplasty? Bauze A, Agrawal S, Cuthbert A, de Steiger R. Clin Orthopaedic Relat Res. 2019 Jun;477(6):1315-1321.
Outcome following total knee replacement in patients with a previous patellectomy. Dodds A, Crowley R, Menz T, Spriggins T, Keene G, Bauze A. Acta Orthopaedic Belg. 2018 Sep;84(3):251-256.
Asopa V, Cobain W, Martin D, Keene G, Bauze A. Staged venous thromboemolic events prophylaxis is safe and effective after arthroplasty.
ANZ J Surgery. 2015 Sep;85(9):652-7.
Asopa V, Al-Nammari S, Spriggins T, Menz T, Bauze A. Sciatic Nerve Palsy following Total Hip Replacement via Direct Anterior Approach after Recommencement of Anticoagulation for Prophylaxis in Atrial Fibrillation.
Case Rep Orthopaedic. 2014; 2014:810481. doi: 10.1155/2014/810481. Epub 2014 Dec 17.
Charity J, Tsiridis E, Gusmão D, Bauze A, Timperley J, Gie G. Extended Trochanteric Osteotomy Followed by Cemented Impaction Allografting in Revision Hip Arthroplasty. J Arthroplasty. 2012 Oct 18.
Bauze AJ, Falworth MS, Oakeshott RD. Early results of total knee arthroplasty with a low contact stress anteroposterior glide. J Orthopaedic Surgery (Hong Kong). 2009 Aug;17(2):174-8.
Bauze AJ, Charity J, Tsiridis E, Timperley AJ, Gie GA. Posterior longitudinal split osteotomy for femoral component extraction in revision total hip arthroplasty. J Arthroplasty, 2008 Jan:23(1):86-9.
Forster MC, Bauze AJ, Keene GC. Lateral unicompartmental knee replacement: fixed or mobile bearing? Knee Surgery Sports Traumatol Arthrosc. 2007 Sep;15(9):1107 – 11.
Forster MC, Bauze AJ, Bailie AG, Falworth MS, Oakeshott RD. A retrospective comparative study of bilateral total knee replacement staged at a one-week interval. J Bone Joint Surgery Br. 2006 Aug;88(8):1006-10.
Bauze AJ, Costi JJ, P Stavrou, Rankin WA, Hearn TC, Krishnan J, Slavotinek J. "Cement penetration and stiffness of the cement-bone composite in the proximal tibia in a porcine model." J Orthopaedic Surgery (Hong Kong). 2004 Dec;12(2):194-8.
Bauze AJ. Chapter 32 - Lower Limb Trauma in Clinical Problems in Medicine and Surgery 2nd ed. P Devitt editor. Churchill Livingstone; 2nd edition, September 2003
Bauze AJ, Clayer M. "Treatment of Humeral Metastases with a Locked Intamedullary Nail"
J Orthopaedic Surgery (Hong Kong). 2003 11(1): 34-7.
Bauze AJ, Bain GI. "Internal Suture for Mallet Fracture" Journal of Hand Surgery. (1999) 24B(6), 688-692
Bauze AJ, Bain GI. "The management of suspected scaphoid fractures" Journal of Rural Health. (1998)
Bauze AJ, Clayer M, Pohl A. "Metastatic Abscess Formation of the Pelvis"
Aust. N.Z. J. Surgery. (1997) 67, 668-669
Research Presentations
An Enhanced Recovery After Surgery Pathway for Hip and Knee Replacements – An Update. Bauze A. Sportsmed Annual Scientific Meeting. Adelaide. November 2021
Hip Restrictions After Total Hip Replacement. Sportsmed Annual Scientific Meeting. Adelaide. November 2021
An Enhanced Recovery After Surgery Pathway for Hip and Knee Replacements – Implementation and Early Outcomes. Bauze A. Australian Orthopaedic Association (SA Branch) Annual Scientific Meeting. Adelaide. October 2021
An Enhanced Recovery After Surgery Pathway for Hip and Knee Replacements – Implementation and Early Outcomes. Bauze A. Arthroplasty Society of Australia Annual Scientific Meeting. Adelaide. May 2021
An Enhanced Recovery After Surgery Pathway for Hip and Knee Replacements – Implementation and Early Outcomes. Bauze A. Sportsmed Annual Scientific Meeting. Adelaide. November 2020
Influence of Anaesthesia and Post-op Analgesia on Outcome in Total Knee Replacement. Bauze A, Smith M, Agrawal S. Sportsmed Annual Scientific Meeting. Adelaide. October 2019
Are Hooded, Crosslinked Polyethylene Liners Associated with a Reduced Risk of Revision After Total Hip Arthroplasty? Bauze A, Agrawal S, Cuthbert A, de Steiger R. 20th Congress of European Associations of National Associations of Orthopaedics and Traumatology. Lisbon.June 2019
The Incidence Of Pulmonary Embolism In Patients With Isolated Distal (Below Knee) DVT Following Hip And Knee Arthroplasty. Nardeen Kader, Vipin Asopa, Greg Keene, David Martin, Adrian Bauze, William Cobain. Poster Presentation. 20th Congress of European Associations of National Associations of Orthopaedics and Traumatology. Lisbon. June 2019
Are Hooded, Crosslinked Polyethylene Liners Associated with a Reduced Risk of Revision After Total Hip Arthroplasty? Bauze A, Agrawal S, Cuthbert A, de Steiger R. Arthroplasty Society of Australia. Noosa. May 2019
Are Hooded, Crosslinked Polyethylene Liners Associated with a Reduced Risk of Revision After Total Hip Arthroplasty? Bauze A, Agrawal S, Cuthbert A, de Steiger R. Australian Orthopaedic Association Annual Scientific Meeting. Perth. October 2018
The effect of hooded polyethylene liners & femoral head size on revision rate in primary total hip arthroplasty. An analysis of 189,869 operations in the Australian Orthopaedic Association National Joint Replacement Registry. Bauze A, Agrawal S, Cuthbert A, de Steiger R. Australian Orthopaedic Association (South Australian Branch) Scientific Meeting. Adelaide. November 2017
Bauze A, Agrawal S, de Steiger R, Cuthbert A. The effect of hooded polyethylene liners & femoral head size on revision rate in primary total hip arthroplasty. An analysis of 189,869 operations in the Australian Orthopaedic Association National Joint Replacement Registry. Australian Arthroplasty Society, Sydney, May 2016
Bauze A, Agrawal S, de Steiger R, Cuthbert A. The effect of hooded polyethylene liners & femoral head size on revision rate in primary total hip arthroplasty. An analysis of 189,869 operations in the Australian Orthopaedic Association National Joint Replacement Registry. Australian Orthopaedic Association South Australian Branch Scientific Meeting, Adelaide, 2016
Bauze A, Agrawal S, de Steiger R, Cuthbert A. The effect of hooded polyethylene liners & femoral head size on revision rate in primary total hip arthroplasty. An analysis of 189,869 operations in the Australian Orthopaedic Association National Joint Replacement Registry. Indian Society of Hip and Knee Surgeons, Chennai, April 2016. Winner of Best Paper Award
Dodds AL, Crowley R, Menz T, Spriggins T, Keene G, A Bauze.


Outcome following total knee replacement in patients with a previous patellectomy. Australian Arthroplasty Society, Noosa, May 2015

Dodds AL, Crowley R, Menz T, Spriggins T, Keene G, A Bauze.


Outcome following total knee replacement in patients with a previous patellectomy. Australian Orthopaedic Association South Australian Branch Scientific Meeting, Adelaide, 2014

Asopa V, Cobain W, Martin D, Keene G, Bauze A. Staged chemoprophylaxis is safe and effective in preventing fatal pulmonary embolism. Australian Orthopaedic Association Annual Scientific Meeting, Melbourne, October 2013
Asopa V, Cobain W, Martin D, Keene G, Bauze A. Staged chemoprophylaxis is safe and effective in preventing fatal pulmonary embolism. Australian Orthopaedic Association South Australian Branch Annual Scientific Meeting, Adelaide, August 2013
Asopa V, Cobain W, Martin D, Keene G, Bauze A. Staged chemoprophylaxis is safe and effective in preventing fatal pulmonary embolism. Australian Arthroplasty Society, Noosa, June 2013
Charity J, Tsiridis E, Gusmão D, Bauze A, Timperley J, Gie G. Extended Trochanteric Osteotomy Followed by Cemented Impaction Allografting in Revision Hip Arthroplasty. Australian Arthroplasty Society, Noosa, June 2013
Bauze A, Charity J, Tsiridis E, Timperley J Gie GA. "Posterior longitudinal split osteotomy for femoral component extraction at revision THR". Australian Orthopaedic Association ASM, Canberra, October 2006
Bauze, A Oakeshott R. 8 years experience with a mobile bearing TKR - A review of 400 LCS AP-Glides. Australian Orthopaedic Association ASM, Canberra, October 2006
Forster MC, Bauze AJ, Bailie AG, Falworth MS, Oakeshott RD. A retrospective comparative study of bilateral total knee replacement staged at a one-week interval. Australian Knee Society ASM, Christchurch, New Zealand, August 2006
Bauze, A Oakeshott R. 8 years experience with a mobile bearing TKR - A review of 400 LCS AP-Glides. Australian Knee Society ASM, Christchurch, New Zealand, August 2006
Forster MC, Bauze AJ, Bailie AG, Falworth MS, Oakeshott RD. A retrospective comparative study of bilateral total knee replacement staged at a one-week interval. Australian Orthopaedic Association (South Australian Branch) ASM August 2006
Bauze A, Timperley J Gie GA. "Posterior longitudinal split osteotomy for femoral component extraction at revision THR". Asia Pacific Orthoapedic Association Hip Meeting, Adelaide, May 2006
Bauze, A Oakeshott R. 8 years experience with a mobile bearing TKR - A review of 400 LCS AP-Glides. Australian Orthopaedic Association (South Australian Branch) SM November 2005
Bauze A, Keene G, Jeer C. "Early results of a new Unicompartmental Knee Replacement" Australian Orthopaedic Association (South Australian Branch) ASM August 2005
Bauze A, Gie GA, Timperley J. "Posterior longitudinal split osteotomy for femoral component extraction at revision THR". Australian Orthopaedic Association (South Australian Branch) ASM August 2005
Bauze AJ, Costi JJ, P Stavrou, Slavotinek J, Hearn TC, Krishnan J. "Cement penetration and stiffness of the cement-bone composite in the proximal tibia." Australian Orthopaedic Registrars Association Annual Conference, Melbourne, November 2003
Bauze AJ, Costi JJ, P Stavrou, Slavotinek J, Hearn TC, Krishnan J. "Cement penetration and stiffness of the cement-bone composite in the proximal tibia." Australian Orthopaedic Association, South Australian Branch, Annual Scientific Meeting, Adelaide, October 2002
Bauze AJ, Clayer M. "Treatment of Humeral Metastases with a Locked Intamedullary Nail"
Asia Pacific Orthopaedic Association, 13th Triennial Congress, Adelaide, April 200
Bauze AJ, Clayer M. "Treatment of Humeral Metastases with a Locked Intamedullary Nail"
Australian Orthopaedic Association, Annual Scientific Meeting, Cairns, November 1999
Bauze AJ, Clayer M. "Treatment of Humeral Metastases with a Locked Intamedullary Nail"
Australian Orthopaedic Association, South Australian Branch, Annual Scientific Meeting, August 1999
Bauze AJ, Bain GI. "A surgical technique for large fragment mallet finger fracture"
South Australian Hand Society, Annual Scientific Meeting, November 1998
Bauze AJ, Bain GI. "A surgical technique for mallet finger fracture"
Australian Orthopaedic Association, South Australian Branch, Annual Scientific Meeting, August 1998
Bauze AJ, Clayer M, Pohl A. "Metastatic Abscess Formation of the Pelvis"
Australian Orthopaedic Association, South Australian Branch, Annual Scientific Meeting, August 1995
Dr Adrian Bauze
Sportsmed Stepney
32 Payneham Rd,
Stepney SA 5069
Sportsmed Morphett Vale
118-120 Main South Road,
Morphett Vale,
SA, 5162
Sportsmed Darwin
8 Parap Pl,
Parap NT 0820
St Agnes Specialist Centre Ridgehaven
1251 North East Rd,
Ridgehaven SA 5097
Northcare Physio
192 Park Terrace,
Salisbury Plain SA 5109
Calvary North Adelaide Hospital
89 Strangways Tce,
North Adelaide
Calvary Adelaide Hospital
120 Angas St,
Adelaide SA 5000, Australia