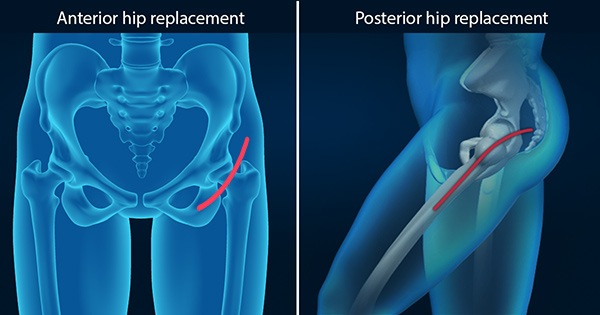 As a surgeon who does both anterior and posterior hip replacement surgery I get asked every week which approach is better. The answer is not as simple as you might think. Both approaches have risks and benefits and each hip is different.
They main benefit of the anterior approach is that it does not involve cutting any muscle, while the posterior approach does require a small amount of muscle to be cut and repaired. In theory this could result in faster recovery and less risk of instability and dislocation. A 2015 meta-analysis reviewing 17 high quality scientific studies (2302 hips) provided some early qualified support to this. There was a slight reduction in length of stay in hospital and dislocations using the anterior approach but no clear superiority of either approach (1).
More recent evidence does not support these promising early results of the anterior approach. Using modern enhanced recovery pathways there is no strong evidence to show any difference in early mobilisation and discharge between the anterior and posterior approaches (2). A 2019 study of 3574 patients actually showed a lower rate of dislocations and overall complications with the posterior approach compared to the anterior approach (3). Another large study by the Adelaide based Australian Orthopaedic Association National Joint Replacement Registry looked at 5499 hips done by 68 surgeons and found that there is a significant learning curve with the anterior approach during which the rate of revision surgery is higher (4).
The potential problem with the anterior approach is that it is technically challenging and exposure of the femur (thigh bone) is more difficult compared to the posterior approach. This can result in component malposition, a fracture of the femur or other complications which are harder to recognise and deal with than when using other approaches.
There are some hips for which the anterior approach is riskier than others. There are particular anatomical variations of the hip bones that make exposure more difficult, as does obesity, and fracture is also more likely with older patients or those with osteoporosis.
It's also important to recognise that all hip replacement approaches have become less invasive over the years. The long incision and prolonged hospital stay of previous decades have given way to smaller incisions and rapid mobilisation for all patients regardless of surgical approach
My view is that there is no clear advantage of the anterior approach over modern mini-posterior approaches. The anterior approach is technically challenging with potentially greater risk of complications and should only be performed by an experienced hip replacement surgeon who is trained in the procedure. The benefits of the anterior approach are not so great that we should risk a fracture or other complication in unsuitable hips. I assess each hip on its merits and discuss the options with every patient.
For more information on hip replacement surgery click here :
If you would like to discuss hip replacement surgery with Dr Bauze then send us an email using the form on this page or call 81301259
References
Higgins BT, Barlow DR, Heagerty NE, Lin TJ. Anterior vs. posterior approach for total hip arthroplasty, a systematic review and meta-analysis. J Arthroplasty. 2015 Mar;30(3):419-34.
Wainwright TW, Gill M, McDonald DA, Middleton RG, Reed M, Sahota O, Yates P, Ljungqvist O. Consensus statement for perioperative care in total hip replacement and total knee replacement surgery: Enhanced Recovery After Surgery (ERAS®) Society recommendations. Acta Orthop. 2020 Feb;91(1):3-19.
Aggarwal VK, Elbuluk A, Dundon J, Herrero C, Hernandez C, Vigdorchik JM, Schwarzkopf R, Iorio R, Long WJ. Surgical approach significantly affects the complication rates associated with total hip arthroplasty. Bone Joint J. 2019 Jun;101-B(6):646-651.
de Steiger RN, Lorimer M, Solomon M. What is the learning curve for the anterior approach for total hip arthroplasty? Clin Orthop Relat Res. 2015 Dec;473(12):3860-6.