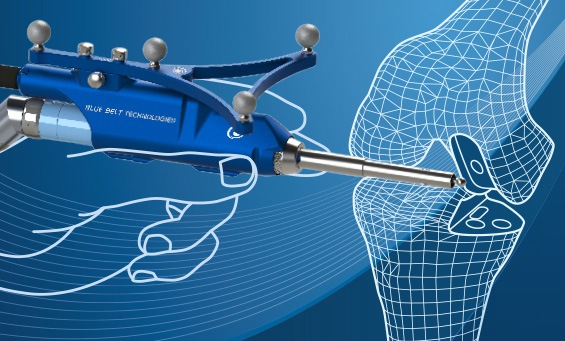 Dr Adrian Bauze
Orthopaedic Surgeon
Hip and Knee Specialist
Robot technology in hip and knee replacement surgery has created a lot of interest in Adelaide this year. There are two types of systems available or in development - large robotic arms that position the cutting tool for the surgeon and smaller hand held instruments that the surgeon positions while the robot retracts the cutting tool if it is in the wrong place.
Both types of robots are interesting pieces of technology that can help surgeons position components accurately, however it is yet to be proven that there is any clinical benefit either in the short or long term. Given this, it is imperative that patient safety is paramount when choosing between the two types of robot. At SPORTSMED SA I use a smaller hand held robot, the Navio Surgical System.
Check out three factors below that I considered when deciding which type of robot is safer.
RADIATION EXPOSURE
All robotic systems require the creation of a computer generated 3D model of the joint. Robotic arm systems usually require a CT scan to be performed before surgery to generate this model. This requires additional radiation exposure for patients. Even a 'low dose' CT scan involves far more radiation exposure than a plain X-Ray.
A recent article in Scientific American explains how radiation exposure from CT scans can increase the risk of cancer.1 Although the risk to the individual is low, across large numbers of patients it is significant. The article explains that CT scans should only be performed when there is a clear clinical benefit, while unnecessary radiation exposure should be avoided. In hip and knee replacement surgery this is a risk that doesn't need to be taken.
With the Navio robot the 3D computer model is generated during surgery using safe infrared light. Reflective arrays are attached to the bones and a probe. An infrared emitter/receiver attached to the computer registers where the bones are in space. There is no need for radiation exposure.
ROBOTIC ARM
A recent study has been reported as showing that large and complex surgical robots, are 'virtually impossible to clean'2 . This study did not specifically involve a robot used in joint replacement surgery, but found that hospital cleaning methods following manufacturers' instructions were over 99% effective for ordinary instruments, but only 97.6% effective for large robotic instruments. The complex robotic arms had significant 'protein residue'.3 This means blood and human tissue remained on the robot after cleaning, increasing the risk of infection. This may explain previous research that has shown an increased risk of infection with robot assisted surgery in other surgical specialties.4
This issue does not apply to the Navio Surgical System given it is a miniaturised hand-held device which is the size of a normal surgical instrument. The handpiece contains a retractable disposable burr (cutting tool). The surgeon positions the handpiece and the robotic mechanism retracts the burr if it is in the wrong place to prevent the surgeon making an error. The handpiece is sterilised in exactly the same way as ordinary surgical instruments.
IMPLANT TRACK RECORD
Our experience at SPORTSMED SA, and numerous reports from the Adelaide based Australian Orthopaedic Association National Joint Replacement Registry (AOANJRR)5, has taught us that new hip and knee replacement implants often perform worse than those that have a proven track record. For this reason we have a policy of only using implants that have been in use long enough to have a clearly documented track record in the AOANJRR annual report. Some robotic arm systems currently in use require new specifically designed implants due to the constraints of the system, however the Navio robot uses an implant with a clearly documented five-year track record of successful clinical outcomes recorded by the AOANJRR.5
Technology advances very quickly. Robotics in hip and knee replacement surgery is a fascinating development that may improve outcomes however patient safety must remain paramount. This was a key factor in our decision at SPORTSMED·SA to adopt the innovative Navio Surgical System.
Dr Bauze is Chairman of the Clinical Audit and Clinical Outcomes committee at SPORTSMED·SA and coordinates the annual Australian Orthopaedic Association National Joint Replacement Registry (AOANJRR) review at SPORTSMED·SA. Dr Bauze is also involved in collaborative research projects with the AOANJRR and South Australian Health and Medical Research Institute (SAHMRI).
To read more articles by Dr Adrian Bauze about hip and knee surgery click here.
If you would like to discuss robotic-assisted, hip or knee replacement surgery with Dr Bauze, please contact 08 8362 7788.
For more information click on links below:
Robotic assisted partial knee replacement
Clinical Outcomes
References
1. How much do CT scans increase the risk of cancer?', Carina Storrs, Scientific American (July 2013).
2. Surgical robots are 'virtually impossible to clean', study reveals', Mia De Graaf, Daily Mail (November 2016)
3. Challenging Residual Contamination of Instruments for Robotic Surgery in Japan', Yuhei Saito, Hiroshi Yasuhara, Satoshi Murakoshi, Takami Komatsu, Kazuhiko Fukatsu, Yushi Uetera, Infection Control & Hospital Epidemiology (October 2016).
4. Incidence of Surgical Site Infection Associated with Robotic Surgery, Elizabeth D. Hermsen, Tim Hinze, Harlan Sayles, Lee Sholtz, Mark E. Rupp, Infection Control & Hospital Epidemiology (August 2010).
5. Australian Orthopaedic Association National Joint Replacement Registry Annual Report, Adelaide, AOA (2016).