Clinical Outcomes
Outcome Highlights
Joint Replacement Revision Rates:
| | | |
| --- | --- | --- |
| Revision Rate at 7 years | Dr Bauze | National Average |
| Partial Knee Replacement | 0% | 10.6% |
| Total Knee Replacement | 1.8% | 4.2% |
| Total Hip Replacement | 1.4% | 5.0% |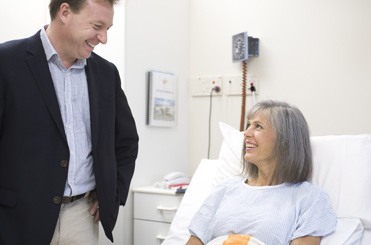 This table compares revision surgery rates for hip and knee replacements performed by Dr Bauze at SPORTSMED SA to the national average, at 7 years post-operatively. A revision is where the patient has surgery to change one or more joint replacement components due to complications or other issues with the joint. Revision rates are one way to measure the success of joint replacement surgery.
Dr Bauze has performed 619 joint replacement procedures at SPORTSMED SA. His revision surgery rates are well below the national average. This data has been reported independently by the Australian National Joint Replacement Registry and the full report is available here:
What is a Clinical Outcome?
A clinical outcome refers to the result of any medical treatment. Dr Bauze is a member of the orthopaedic team at SPORTSMED•SA which has a robust system for monitoring clinical outcomes. This system comprehensively audits all clinical operations. This includes inputs from:
Patients
Surgeons
Nursing & administration staff
as well as feedback from health funds and other hospitals.
The data is reviewed and analysed annually by independent statisticians from Flinders Medical Centre.
SPORTSMED•SA Clinical Outcome Audit
Dr Bauze chairs the Clinical Outcomes Committee and the Clinical Audit which monitors this data and we are confident that it is more comprehensive and accurate than that collected by any other private hospital or clinic in South Australia.
Dr Bauze moved his private practice to SPORTSMED•SA in late 2008, and since then has performed approximately 400 hip and knee procedures per year at SPORTSMED•SA Hospital and Day Surgery. These reports include all of these procedures from 1 Jan 2009 to 31 Dec 2016 and are updated annually.
| | | | |
| --- | --- | --- | --- |
| Dr Adrian Bauze | Operations | Incidents | Percentage |
| Deep Incisional Infection | 3044 | 5 | 0.16% |
| Joint Infection | 3044 | 9 | 0.30% |
| Deep Vein Thrombosis | 3044 | 16 | 0.53% |
| Pulmonary Embolism | 3044 | 11 | 0.36% |
| Fracture | 3044 | 7 | 0.23% |
| Nerve Injury | 3044 | 2 | 0.07% |
Australian Orthopaedic Association National Joint Replacement Registry
The Australian National Joint Replacement Registry is recognized internationally as one of the best in the world and monitors the revision rate of all joint replacements performed in Australia. It is based at the South Australian Health and Medical Research Institute and funded by the Federal Government. Since late 2008 all hip and knee replacements in Australia have been recorded in the registry with the surgeon identified, enabling accurate reporting of an individual surgeon's results.
Revision rate of joint replacements is largely a reflection of a surgeon's skill, experience and selection of the best performing prostheses. Patients have a right to know a surgeon's revision rate and should ask for this data. Patients cannot access a surgeon's results but all surgeons in Australia can access the registry and provide this data in a few minutes.
If you cannot access the forms you can click on the icon to download the software.