Robotic Assisted Partial Knee Surgery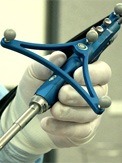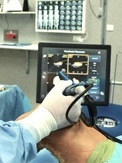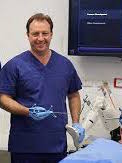 Robotic assisted partial knee replacement surgery using the Navio system is an innovative alternative to the conventional surgical procedure in patients suffering from degenerative knee diseases such as osteoarthritis. It is performed using the Navio miniaturised hand held robotic burr that allows the surgeon to precisely perform the surgery through a smaller incision as compared to traditional surgery. This is the next generation of robotic technology that does away with the need for a cumbersome robotic arm. It also eliminates the need for the radiation exposure of a preoperative CT scan that is required by the older MAKO robotic system.
This procedure utilises careful preoperative clinical evaluation, X-rays and an intraoperatively generated digital 3-dimensional model of the knee. This determines the damaged areas of the joint that need to be removed for the precise placement of the knee implant. The procedure may be used for partial knee replacement surgery. In the partial knee resurfacing, only the diseased portion of your knee is removed, preserving the surrounding healthy bone and tissue. An implant is then secured over the prepared portion of your knee joint that results in resolution of symptoms and a natural knee movement. As it employs a minimally invasive technique the incidence of scarring and blood loss is very low.
The procedure is beneficial in patients with single compartment knee disease. Robotic assisted partial knee surgery can be considered in patients with osteoarthritis associated with symptoms such as activity related knee pain and swelling. The procedure results in resolution of symptoms and a natural knee movement.
For more information click here.
Benefits
The potential benefits of the Navio robotic assisted partial knee surgery include:
No preoperative CT scan radiation
No cumbersome robotic arm
Smaller incisions
Rapid recovery
Precise placement of the implant
Reduced injury to adjacent tissues
Increased longevity of the implant